The word "stadium" is derived from the Greek unit of measurement called "stade". Since Greek and Roman times, the stadium architecture is present. The bold concrete and steel designs were not possible to make back then. But with the present technology, many marvelous monuments are possible.
Beijing National Stadium, Beijing, China
It is also known as the Bird's Nest. It has been designed by Swiss architects Herzog & de Meuron collaborating with the prominent Chinese artists' Ai Weiwei and CAG lead architect Li Xinggang. The model was inspired by Chinese ceramics. The arena can accommodate 80,000 spectators.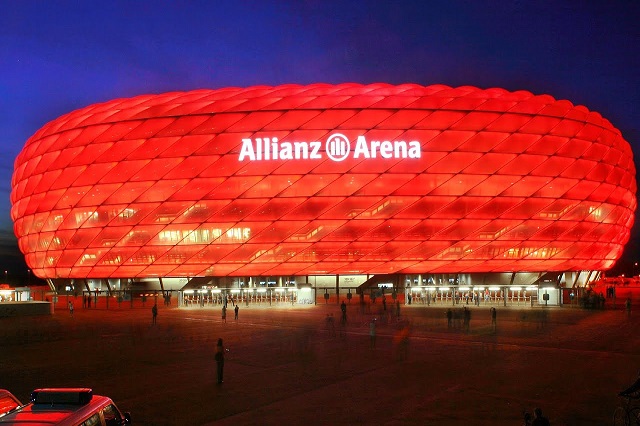 Allianz Arena, Munich, Germany
This stadium has a capacity to seat 57,343 spectators. This one too has been designed by Swiss architects Herzog and de Meuron. It has been the venue for many big games, including the 2006 FIFA World Cup. This stadium truly exhibits a magnificent façade.
Kaohsiung National Stadium, Zuoying District, Taiwan
This arena is in the shape of a dragon. It has been designed by the Japanese architect Toyo. It offers a seating capacity of 55,000. It is the first stadium in the world to depend upon solar power for all of its supplies.
FNB Stadium, Johannesburg, South Africa
It truly represents the African culture. The stadium is also called the "The Calabash" since it resembles the African pot. It is the largest stadium in all of Africa with a seating capacity of 94,736. This stadium also has a historical past. Upon his release from prison, Nelson Mandela gave his first speech here.
National Stadium, Warsaw, Poland
Germany architects Gerkan, Marg, and Partners are behind this stadium. It can seat up to 58,145 people. The façade represents the Polish flag with its red and white colors.
Olympiastadion, Munich, Germany
This place has a capacity to seat 69,250 people. The arena has hosted many famous matches. The canopy represents post-war Germany, which is ready to rebuild itself.
PGE Arena, Gdank, Poland
It was the venue of the 2012 UEFA European Championship and has a seating capacity of 42,000. European architecture has been inspired by the Amper, which is extracted from the Baltic Sea.
Aviva Stadium, Dublin, Ireland
It can seat 51,700 people and has been designed by the international firm Populous and British and Irish architects Scott Tallon Walker. The roof is magical as its wave-like design allows a lot of light to enter it. Many concerts have been held in this arena too. A lot of rugby marches and soccer games have happened here.